The first four questions on the form ask about the employee to which the phone number is assigned and the current physical location of the phone.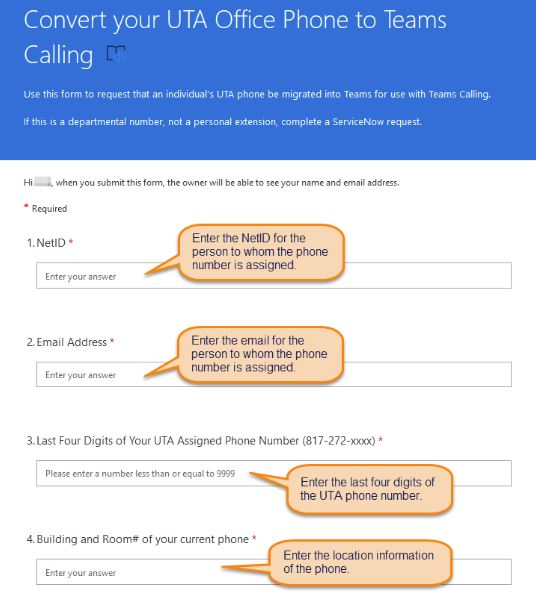 Question five asks about what type of phone device should be provided to the user of the phone number. There are five options:
Standard Wireless Headset – a Bluetooth enabled device to connect to a computer that has an earpiece and microphone.
Standard Corded Headset – a device that uses a USB connection to connect the earpiece and microphone to a computer
Standard Desktop Phone – this is a traditional phone set with a base and a handset that includes a Teams screen
No phone or headset – no hardware is required for the phone.
Other – the department will purchase a device outside of the OIT options.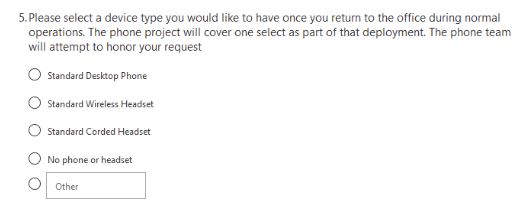 Question six asks about other phone numbers that the person assigned to the phone number might also be responsible for answering.

Question seven asks for a contact phone number other than a UTA phone number (i.e. cell phone or home phone where the form submitter can be contacted if there are questions about the request.

Once the responses have been entered, click the Submit button at the bottom to submit the request for processing. The information will be reviewed to ensure it corresponds with the current Telecom information. Once the request has been reviewed, an email will be sent to the form submitter from Microsoft Power Apps stating if the request has been approved and being processed or if it has been denied.

Once the phone number has been migrated into Teams, users will not be able to contact the phone number using only 5-digit dialing ("2-1234"); the full phone number will need to be dialed ("817-272-1234").

For assistance using Teams calling, please refer to the Teams Calling Resource Guide in the Service Now Knowledge base.