About this service
Announcement:
Upcoming Digital Signage Displays in student Learning Areas (Classrooms and Labs)
In an effort to enhance UTA's campus experience, the Office of Information Technology will be deploying Digital Clocks in student learning spaces i.e. Classrooms and Computer Labs that will integrate with UTA Police Department's Emergency Notification System. In the event of an emergency situation, these signs will display UTA PD's emergency alert messages and will serve as an additional source of communication channel for the campus community.
Please note that during normal (Non-emergency) hours these clocks will have a digital clock face which will display the date, time and 3-day weather forecast, during critical, urgent emergency situations (Category 1-3) the screens will display the Emergency Alert messages with sound. Following are the screen-shots samples of what is coming: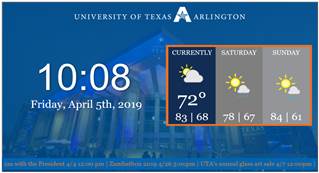 Non-emergency Display (clock face)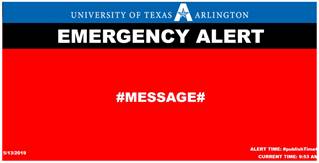 Emergency Alert Display
This is a pilot program and Office of Information Technology is distributing the first handful of new digital signage starting with select classrooms in the Architecture (CAPPA) and the Science and Engineering Innovation and Research (SEIR) buildings. For more information about Digital Signage, contact the ITSSupport@uta.edu or, Help Desk at 817-272-2208 or submit a self-service ticket.